These pancakes are exactly what I want on a slow Sunday morning. They're ridiculously light and fluffy and the little pops of warm blueberries throughout make these completely irresistible. I'm pretty sure you'll try these and never go back to using the box pancake mix.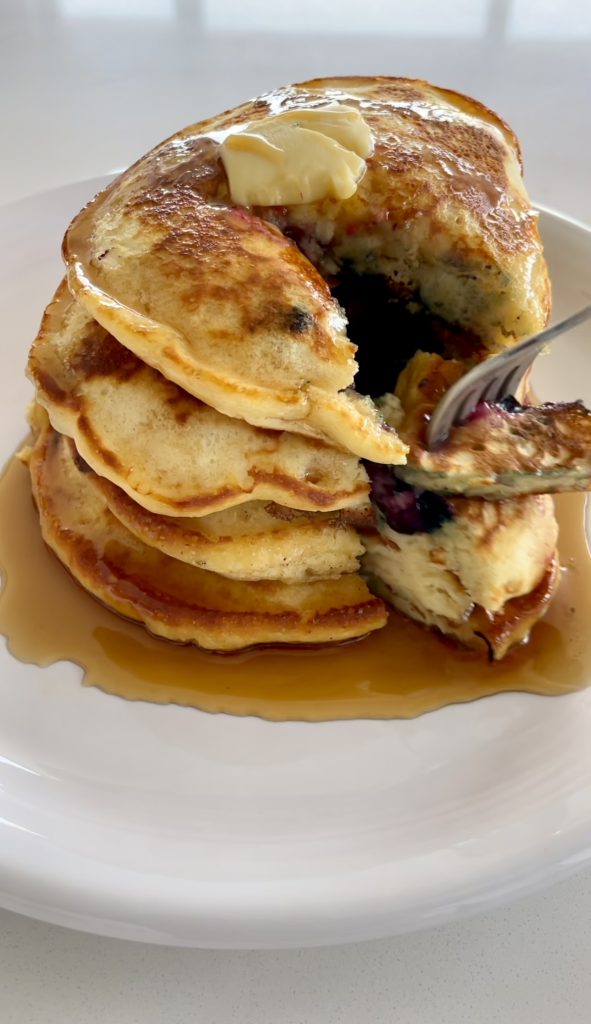 What's the trick to light and fluffy pancakes?
There are a few things that contribute to these pancakes being so light and fluffy. The main one is to not over-mix the batter. It's completely OK (and actually preferred) to have a lumpy pancake batter. If you over-mix the batter, the the gluten will develop from the flour in your batter, making your pancakes chewy instead of fluffy.
How do you know when to flip the pancakes?
The best indicator of when the pancakes are ready to flip is when you see little bubbles that are popping and almost look like tiny holes on the surface of the pancake. Depending on how hot your griddle or pan is, it can take anywhere from 2-5 minutes to see bubbles. Working on medium to low heat is what I recommend so that you don't over cook the exterior or end up with a raw center.
I always end up with dry pancakes. What am I doing wrong?
The biggest problem here is probably that you've either over-mixed the batter, or over cooked the pancakes. Let's be honest though, all pancakes are a little dry on their own. Once the butter and maple syrup are on top though, I think some kind of magic happens and even a dry pancake can be saved!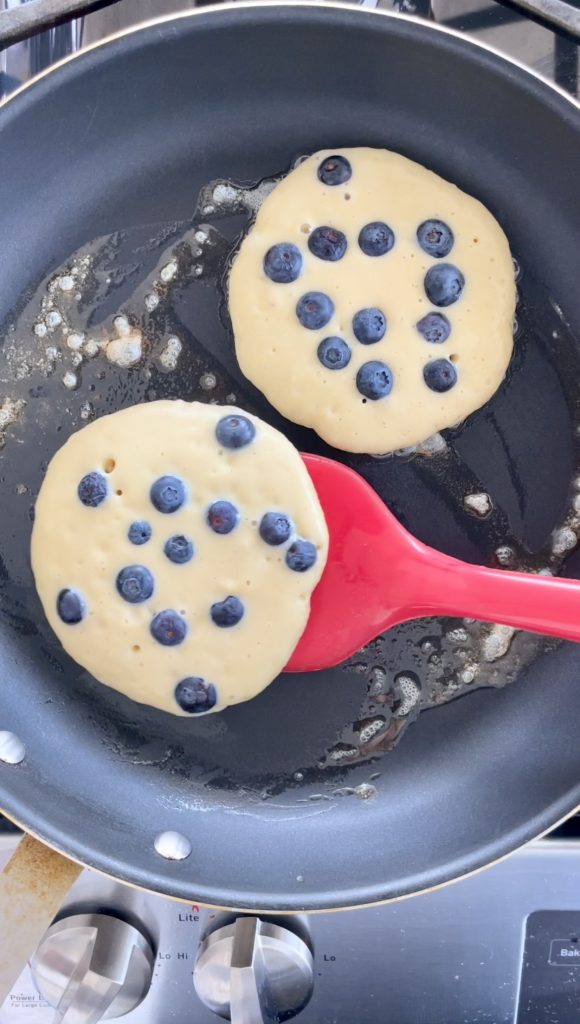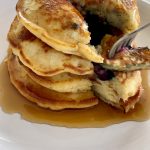 Print Recipe
Homemade Blueberry Pancakes
Ingredients
1

cup

all purpose flour

2

tbp

granulated sugar

1

tsp

baking powder

1/2

tsp

baking soda

1

cup

whole milk or buttermilk

1

large egg

2

tbsp

butter

(for the pan)

1/2

cup

fresh blueberries
Instructions
In a large bowl, combine the flour, sugar, baking powder and baking soda.

Measure out the milk/buttermilk and whisk 1 egg into that.

Add the milk and egg to the dry mixture and gently start to fold everything together until there is no more visible flour. *Make sure to not over-mix here!

Grab a large skillet or griddle (whatever you prefer) and begin to melt the butter on low to medium heat.

Once the butter is melted, use a measuring cup and scoop the batter into even sized pancakes (however many will fit in your pan… this recipe makes 8 medium sized ones). Sprinkle a few fresh blueberries onto each pancake.

Once you start to see bubbles forming AND popping on the surface of the pancakes, go ahead and flip them over.

Allow the pancakes to cook for a few more minutes, then transfer to a plate and serve with lots of butter and maple syrup!