Jump to Recipe
This loaf pan monkey bread is everything I want in a sweet treat. It's gooey, soft and full of delicious cinnamon-sugar flavor! Think cinnamon rolls combined with pull apart bread. Exactly what dreams are made of!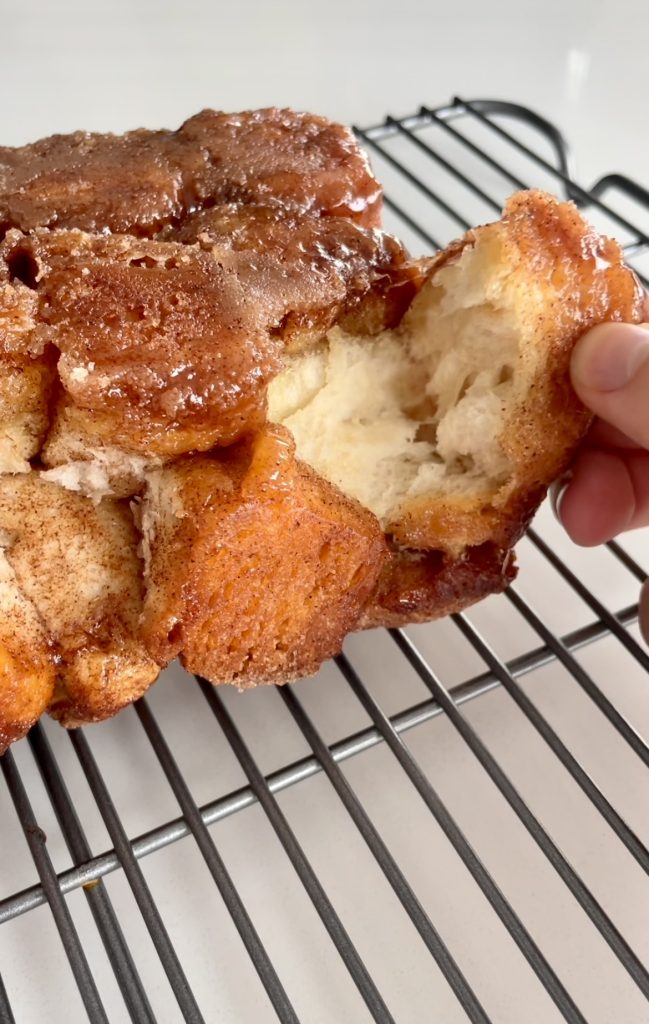 Why you should make this easy monkey bread recipe:
This homemade monkey bread is the definition of low effort, high reward. This dessert bread recipe cuts some corners by using pillsbury biscuits instead of homemade dough and throwing together a quick cinnamon mixture. When baked, the result is a delicious sticky bread that is suitable for a weekend brunch, easy breakfast and special occasions. In my family, we always had this on the first day of school and Christmas morning.
Simple ingredients you'll need for my best monkey bread recipe:
Granulated sugar
Cinnamon
Biscuit dough: Feel free to use a store-bought can of biscuits or your favorite homemade bread recipe. Brioche dough works is great here as well.
Melted butter
How to make delicious monkey bread:
Cut the biscuits (if using) into quarters and roll into round balls
Make the cinnamon-sugar mixture
Roll the balls in the cinnamon-sugar
Alternate layering the butter, cinnamon-sugar and dough balls until everything is used up!
Once it's baked, let it cool and flip it upside down!
FAQ:
Where did the term monkey bread come from?
Monkey bread gets its name by the method in which it is eaten: picking off chunks of buttery dough with your fingers similarly to how a monkey would groom his buddy. Monkey bread is considered to be a finger food and it is assumed that the consumer would pick apart the bread as a monkey would. This baked good also takes on the title of being a pull apart loaf.
Can I turn this small batch into a larger one?
This recipe has been scaled down to feed only a few people but the original recipe my family always uses is doubled and made in a bundt pan! So yes, you can definitely make this full sized. To do so, you would just times this recipe by two, make it in a bundt pan and bake for five to ten minutes longer.
Do I have to use biscuit dough vs bread dough?
Nope! The canned biscuit dough is what I like because it's what makes this such a convenient and easy recipe but you can make homemade bread dough, homemade brioche dough, or use dinner rolls too!
Most monkey bread recipes I've seen have caramel sauce, why doesn't this one?
Not having to make caramel sauce is just another thing that makes this recipe so easy. The cinnamon-sugar and butter create their own gooey sauce without having to do any extra steps.
How long does monkey bread stay fresh?
This is best consumed fresh, right after it's been baked but if you are storing leftovers, it would be a great idea to store the leftovers in an airtight container or resealable baggie (with the air squeezed out) so that it is less likely to dry out from being exposed to air. If you do that, leftovers will stay fresh for 2-3 days and be delicious if re-heated in a 250 degree F oven for 15 minutes.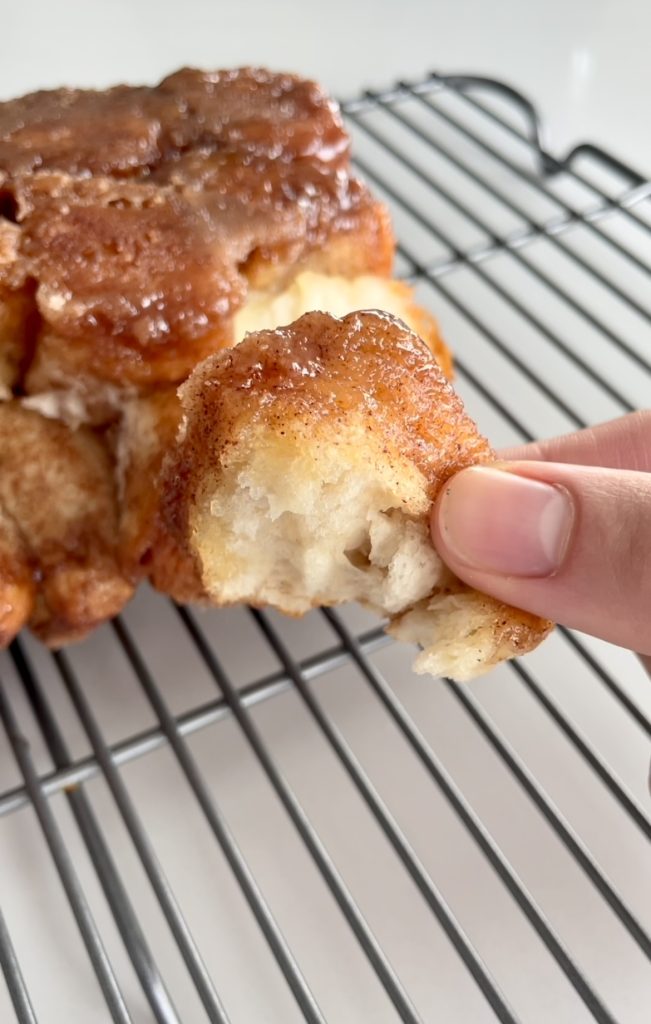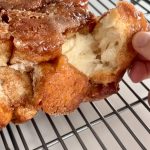 Print Recipe
Small Batch Monkey Bread
This loaf pan monkey bread is everything I want in a sweet treat. It's gooey, soft and full of delicious cinnamon-sugar flavor! Think cinnamon rolls combined with pull apart bread. Exactly what dreams are made of!
Ingredients
1/2

cup

granulated sugar

1 1/2

tsp

ground cinnamon

1

can

biscuit dough

store bought

1

stick

butter

melted
Instructions
Preheat your oven to 350 degrees F.

In a medium bowl, combine the white sugar and cinnamon, then set aside.

Open your can, or cans of biscuits and cut each one into four pieces. Then roll each piece into a ball so that you're left with biscuit pieces.

Toss the dough balls in the cinnamon sugar.

In a small bowl, melt butter (I do this in the microwave for 30 second intervals).

Start to layer the melted butter with the dough balls and the leftover sugar mixture into your 8 by 5-inch loaf pan.

Alternate this process until all the butter, dough balls and cinnamon-sugar are used up.

Bake for 40 minutes. Allow to cool for 20 minutes before releasing it by turning the pan upside down and digging in!
Nutrition
Don't forget!
If you don't want to make this small batch version and are looking for the larger, traditional bundt shape with even more gooey deliciousness, just double the recipe and bake for 10 minutes longer!